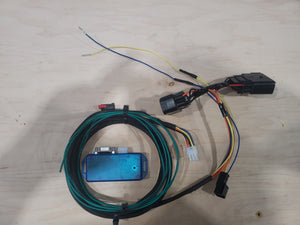 N2MB WotBox two step with semi PnP harness
The N2MB WotBox two step has been available for us Mustang enthusiasts for years and years, but a lot of customers shy away from it due to it needing to be spliced into the factory ECU harness, requiring soldering skills and potentially damaging the factory wiring.  Additionally, if its ever removed, it can be a pain due to the wires being soldered together (if it was installed correctly to begin with!)
NOTE:  THE  11-14 VERSION DOES NOT HAVE THE ECU PINS PNP, JUST THE COIL POWER WIRES

Now thegaugemount.com has a semi PnP harness available for the WotBox kit so that no cutting of your factory wiring is necessary.  
Installation is straight forward.  Run your WotBox harness from it's installed location (typically in the glove box or next to the fuse box in the passenger kick).  De pin 2-3 wires (depending on your setup) from your factory ecu connectors, pin in 2-3 new wires.  Take the 2-3 ecu wires that you de pinned, insert those into a new connector, connect that connector to the WotBox  T harness.  Disconnect the main power harness for coil power, plug the WotBox T harness into that connector.  
Program your WotBox with the included USB to serial interface, and you are ready to go!
These units are built to order, so shipping is usually within 48 business hours.  
NOTE:  THE  11-14 VERSION DOES NOT HAVE THE ECU PINS PNP, JUST THE COIL POWER WIRES